Size Chart Plugin for WooCommerce by Koala Apps
Today we are going to review the WooCommerce Size Chart plugin which is developed by Koala Apps. 
How to Add Size Charts to WooCommerce Products?
A few days ago I read a query on one of the development-related forums asking about how to add a size chart in WooCommerce. As a developer, I rely mostly on my programming skills to solve most of the issues. However, in this particular case, I would prefer this extension over the programmatic solution and we'll discuss the reasons later in this review. First, let's look at the requirements for installing this plugin and some of its main features.
Features
The core functionality of this plugin is to create and display size charts which it does very well. Apart from the core functionality like any other plugin, this one also comes with some value-added features. Let's have a quick look at these features
Create and Add Multiple Size Charts 
This is a really impressive feature in my opinion because having a single-size chart for multiple categories is not a viable solution. Let's put it this way, you can't use size charts made for T-shirts in the sneakers category. So the ability to add multiple-size charts is amazing.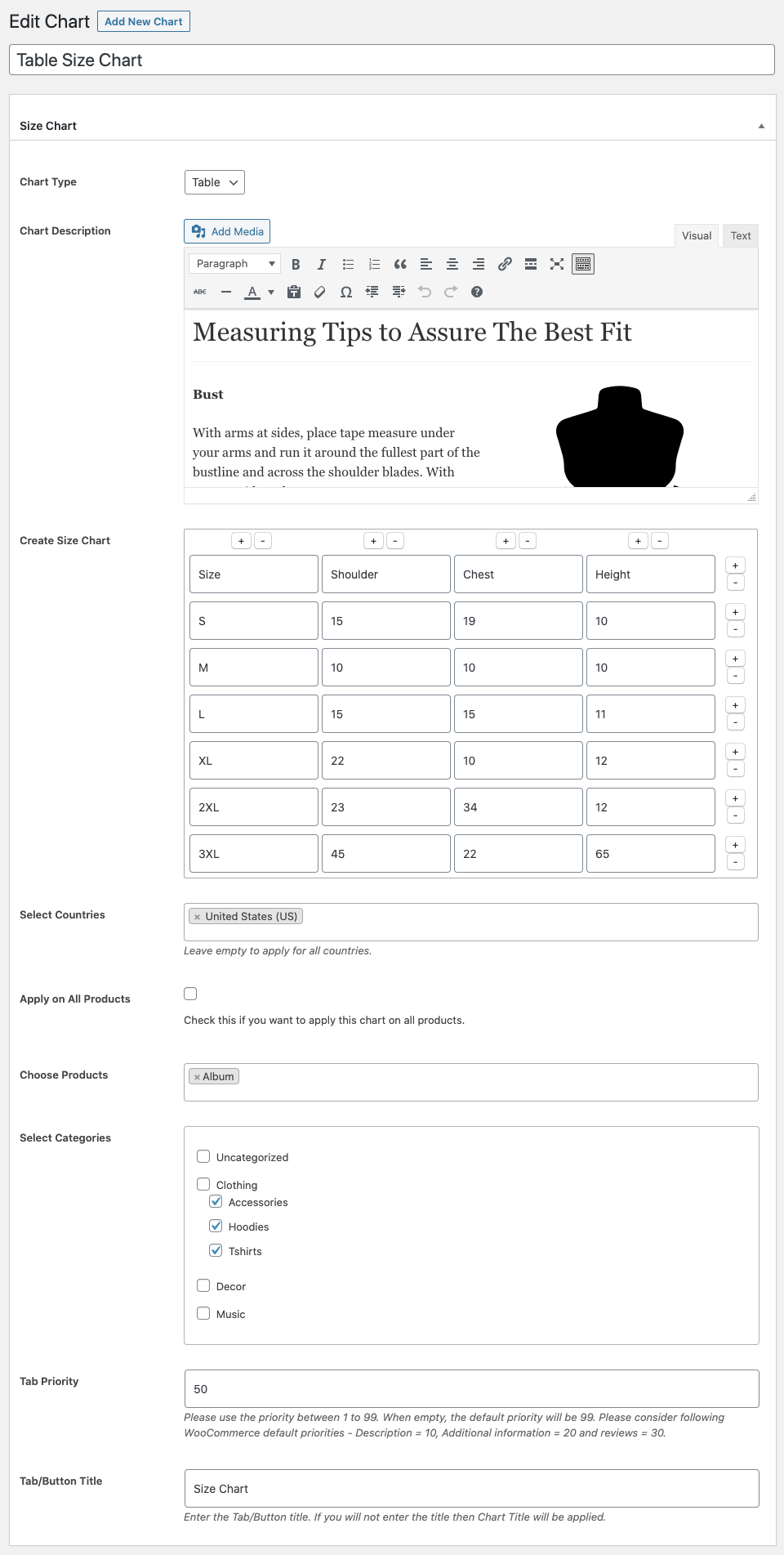 Upload Picture-Based Size Charts or Create Custom Tables
I personally prefer custom-designed size charts in picture format because, in my opinion, they can be more detailed than a table. However, the plugin's customization options have surprised me completely. From changing the button's color to the color of the evolving row, you can even set different colors for even and odd colors. Font and table border colors can also be changed. So it's up to you really whatever your preference is you can design the chart accordingly.
Apply Country-Based Restrictions
It's another really impressive feature. Size Chart for WooCommerce supports multiple size charts assigned to different countries and size chart visibility can also be restricted based on country.
Size Chart Visibility
This plugin offers multiple options to show a size chart. You can add a customizable button that will display the size chart when clicked, show a separate size chart tab or display it directly on the product page. Size Chart's position can also be customized and it can also be displayed in a pop-up.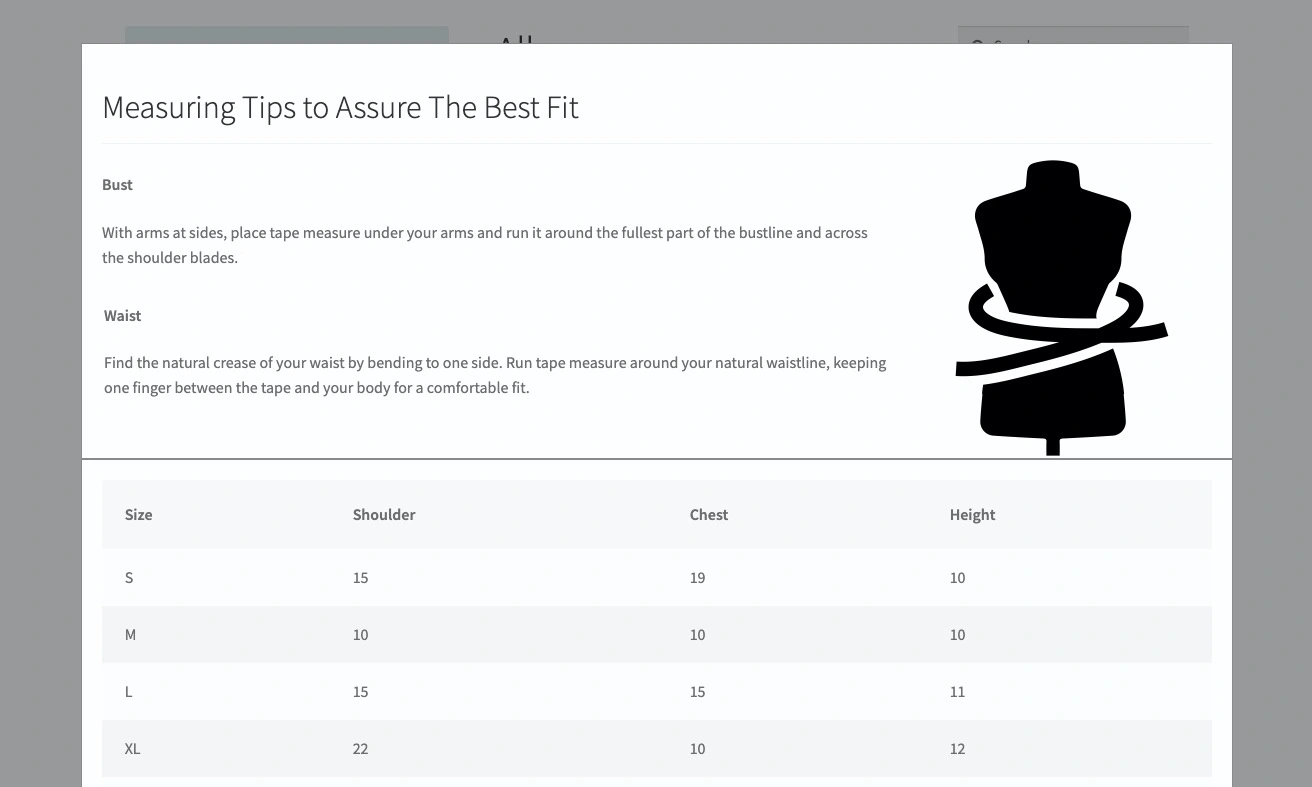 Pricing
Size Chart for WooCommerce provides complete value for money in my opinion. From WooCommerce's official marketplace you can get this plugin for $49 with free installation and one-year support while from KoalaApp's own website you can get the same deal cheaper, it'll cost you $39 with the same free installation and free one-year support. I personally prefer to buy it from KoalaApp because why should I pay $10 extra for the same product and same support?
Why This Plugin?
So as I mentioned earlier that in this particular case I prefer this plugin over the programmatic solution because programmatically you'll have to execute the code again and again for adding new size charts. With this plugin you can add multiple-size charts for different categories and products. Another time-saving feature is adding buttons/tabs for size charts are super easy which would require a lot of time when developing.
Rating
My rating criteria is based on these 3 factors:
Functionality

Features

Support
The plugin works really well and is easy to use so it gets 5/5 for its functionality. Size Charts for WooCommerce is a well-thought-out plugin. I have tested all the features that Koala claims and this plugin includes and performs all the functions claimed by KoalaApps, so 5/5 for Features as well. Support is phenomenal as well, they are quick to get back to you and very cooperative, 5/5 for support as well. So overall this plugin scores 5/5.
Final Word
Size Chart for WooCommerce is a must-have plugin for all the online clothing store owners. It would help in significantly reducing the sizing-related returns. Overall it's a really powerful plugin and I highly recommend it.