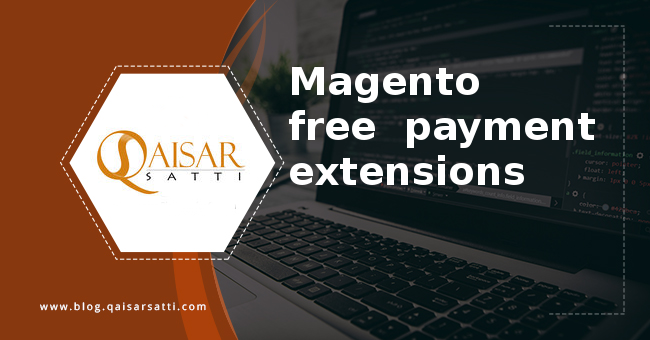 Magento free payment extensions
This article is about Magento free payment extensions . Many people often look for payment methods of magento and find it difficult to find a suitable extension.In this tutorial i will try to list available free magento payment extensions.This tutorial just have information of free extensions that are available on magento marketplace or any other extension provider.I will try to list few here with brief descriptions as well.
Below are the free magento payment method extensions.
Magento payment extensions
Magento provides its own payment methods.But here we will discuss free magento shipping extensions.Because these are available for free so anyone can use them.First,lets have a look at the default magento payment methods.
Default magento payment methods:
Saved CC
Check / Money Order
Zero Subtotal Checkout
Bank Transfer Payment
Cash On Delivery Payment
Purchase Order
Authorize.net Direct Post
Authorize.net
Above are the default payment methods provided by magento.You can use them by going to configuration settings and then modifying payment methods.
Now lets have a look at the free available payment extensions.
Bank Payment
Bank payment is a popular payment method in E-Commerce throughout the globe. This extension provides full control of the payment process to the customer and avoids the transmission of sensitive payment data during or after the payment process.It allows you to define additional rules and displays options within the payment configuration settings.
Key Features
Multiple bank accounts (SEPA ready)
Ability to show/hide bank accounts in PDF-printouts
Ability to show/hide a custom text in PDF-printouts
Show a link to a CMS page instead of displaying the bank accounts
Set a "pay within X days" value
Allow partial capturing
Language packages included: EN, DE, DK, ES, FR, GR, IT, JP, NO, NL, PL, BR, TR
Cash On Delivery
COD or Cash on delivery implies ordered goods being paid for when handed over to the customer in person.Naturally, this payment method is safe and convenient for those who tend to be skeptical of electronic payment methods, especially when ordering online.
Key features
Apply a fee for using cash on delivery as a payment method
Fees can be fixed or a percentage based on the shopping cart's subtotal
Fees as a percentage of the subtotal may require a configurable minimum fee
Differ fees between national and international orders
Restrict payment method to certain countries
Flexibly link cash on delivery to your shipping methods
Payment Extra Charge
Most payment services charge an additional fee for processing payments. Since this fee is different for every payment method, it is difficult to include it in the product price.Using Payment extra charge you can add payment fees for such payment methods, you won't have to make such calculations — the fee will be added automatically.
Key features
Different fees for every payment method
Different methods for fee calculation
Fee rounding
Separate row with fee amount in Total blocks
Different percentage fees for different countries
Editable fee description
Maximum compatibility with 3rd party payment extensions
paydirekt
paydirekt is the online payment procedure of your private and savings banks. paydirekt makes Internet payments secure, simple and direct. This makes it a real alternative to the usual online payment methods and offers merchants many advantages.
Key features
Secure: Maximum data security and optimum protection against payment defaults
Simple: easy operation, integration and simple process
Direct: increasing business and better customer relationship
Pay Bright
PayBright provides friendly, transparent financing to consumers at the point-of-sale, both online and in-store. Our instant payment plans are offered by over 2,700 merchants,including leading domestic and international e-commerce retailers.
Key features
e-commerce installment payment solution
Full integration with Magento 1.x
Instant approval and rapid process: within seconds, PayBright verifies the customer's identity and payment information, and grants instant credit
Next-day payment to merchants with no customer credit risk
Sales increase of up to 30%
Net Promoter Score of 72 among merchants and A+ rating with the Better Business Bureau
Virtual credit accounts can be used for multiple transactions, helping drive repeat purchases
Both merchants and customers receive access to their own online portals to monitor loan activity
No retroactive or compounding interest, hidden charges, or prepayment penalties
Spryng Payments
Spryng Payments includes the most comprehensive list of (dynamic) payment methods, pro-active fraud protection, one-click payment experiences, dynamic check-outs per customer, insights in cost components per transaction, as well as many other features.
Key features
Spryng Payments employs the most competitive and sharpest rates per transaction
We help merchants increasing conversion on all payment methods
Merchants have immediate access to their money
Our team has many years of experience in the payments industry
Spryng Payments originated from the wishes and needs of merchants
We have a global focus
We have developed plug-ins for the most important e-commerce platforms
Easy to connect
Similarly there are many other extensions available. I tried to list a few. I hope this tutorial help you in any way.
Please feel free to drop any suggestions or queries in comments section. It will be highly appreciated.