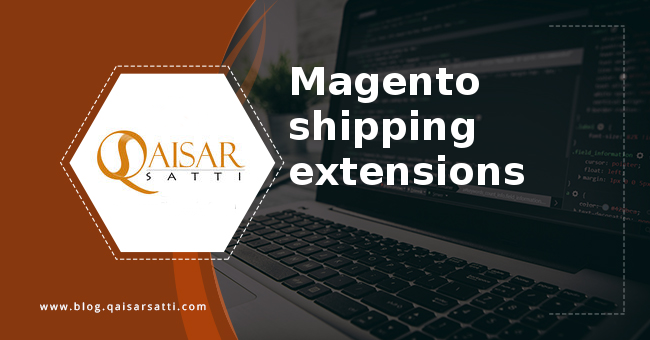 Magento shipping extensions
Today we will discuss about Free magento shipping extensions.In this tutorial we will discuss available free magento shipping extensions.This tutorial just have information of free extensions that are available on magento marketplace or any other extension provider.I have tried to list a few.So let's start with our list.
Free magento Shipping extensions
Magento provides its own shipping methods.Yet here we will discuss free magento shipping extensions.Because these are available for free so anyone can use them.Lets have a look.
ShipperHQ
ShipperHQ provides you the options to fully control and customize your shipping rates like never before. You define the carriers to use, the shipping methods that apply, and the unique rules of your own rate structure.
Key features:
Multi Carrier Support
Fully Customizable Rate Management
Dimensional Shipping
Multi-Origin Shipping
Date & Time
R+L Carriers Freight Shipping
R+L Carriers is an American private freight shipping company who provides freight services such as LTL, Truckload, Logistics, and more.Freight shipping is used when large and heavy items need to be shipped.This extension provides the integration of R+L Carriers Freight to show freight shipping quotes and delivery tracking on your Magento® store.This extension fetch live freight rates from R+L Carriers using their available Rate Quote API.
Key features:
Retrieve live rates from the R+L Carriers freight
Supports accessorial services and can be manage from the admin
Set Min/Max package weight to show freight rates from R+L Carriers
Support all product types
Support Magento® multi store functionality
Assign a store freight class or assign freight classes per product basis
ShipStation
ShipStation is a powerful, yet easy to use web-based, multi-channel, multi-carrier shipping solution designed to facilitate the order fulfillment process for your Magento store. ShipStation downloads your orders in real-time, allows you to create USPS, UPS, FedEx, DHL, Royal Mail, Canada Post, Australia Post, and more shipping labels and packing slips in batch, and communicates tracking information to your customers.
Key features:
Print Shipping Labels and Packing Slips in Batch
Consolidate Orders from Multiple Channels
Unlimited Selling Channels
No Software to Install
Free USPS Provider Account
Shipwire Fulfillment Platform
This extension provides Magento Enterprise and Community edition merchants with e-commerce order fulfillment, shipping software, and cloud-based logistics services from fulfillment centers around the world.Also the Shipwire Platform helps brands grow sales, expand into new markets, and delight their customers by eliminating shipping and storage hassles.
Key features:
Order entry sync
Order tracking
Inventory status
Shipping rates
Shipping Tracker
This versatile extension lets you customize the shipment tracking links provided to your customers. Shipping Tracker is easy to set up and supports up to five carriers as long as they provide a tracking URL and reference number. Shipping Tracker uses the Magento mechanism to add a tracking ID to a shipment. When you create a shipment, select a tracking carrier you have configured and add the tracking ID.
Key features:
Embeds shipment tracking links in shipping confirmation emails
Completely generic – not tied to any carrier
Supports up to five carriers at any one time
Features a dropdown menu with known tracking URLs from major shipping carriers
Extension Link
Similarly there are many other extensions available. I tried to list a few. I hope this tutorial help you in any way.
Please feel free to drop any suggestions or queries in comments section. It will be highly appreciated.